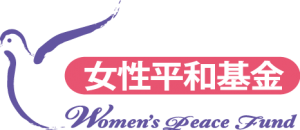 ---
As a way to put its philosophy of serving to bridge women's wish for beauty and for peace into action, Leila created the Women's Peace Fund in 2000. Leila is a peace- and environment-conscious cosmetic company born out of women's call for safe cosmetics, and it works closely with the New Japan Women's Association (Shinfujin). Leila's idea was to offer opportunities to women peace activists in Japan and other countries for sharing their experiences and information and to develop solidarity between them.
Leila started a campaign "One Leila, One Yen," that is, one yen (about one penny) goes to the Fund from one Leila product when it is purchased. The New Japan Women's Association (Shinfujin), a 49 year-old women's NGO working for peace with particular emphasis on nuclear abolition, women's rights, welfare of children, and social justice, helps  Leila in utilizing the Fund's resources using its connections with women's groups and peace organizations as well as its expertise in organizing events. The Women's Peace Fund Association, in cooperation with Shinfujin and other peace organizations, invites women peace activists to the World Conference against Atomic & Hydrogen Bombs, or to the Japan Mother's Congress. These two are annual events that started in 1955, a year after the Daigo Fukuryu Maru, a Japanese fishing boat, was exposed to radiation caused by the hydrogen bomb test the United States conducted at Bikini Atoll, which triggered a nationwide movement against nuclear weapons.
The Women's Peace Fund has invited more than 50 women since 2013, making a great contribution not only to the development of solidarity between women of Japan and different countries, but also to ensuring that women's voices be heard and their input be incorporated, particularly at the World Conference against A & H Bombs. Women are most dedicated peace workers at grassroots level, but invisible and not fully represented at international gatherings. Every woman who was invited by the Fund said that she was happy and grateful for having given an opportunity to hear the stories of Hibakusha, A-bomb survivors, and to meet with so many women both Japanese and from abroad to learn from their dedicated work for peace. What makes their experience in Japan unforgettable and valuable is, they say, that it was a collective support from Japanese women who share common goal of achieving a peaceful and just world free of nuclear weapons and war that made it all possible.